Table of Contents
Token Tool by Bitbond and Cointool.app are Web3 dApps where users can create tokens (aka smart contracts) without coding.
It is not clear who is the developer of Cointool and the team behind this project. Is Cointool.app legit? With only limited information about the entity in charge, it is difficult to assess and confirm suspicions on cointool.app's legitimacy.
In this article we will introduce a brief overview of Cointool.app, and present Token Tool by Bitbond as an alternative.

Is Cointool.app legit?
Little, to no information about the entity
It is unknown who are the drivers behind the Cointool.app project. No official business registry, nor general information about the entity are available on their website. The only information we have is that it seems to be based in China, but no official business registry is provided.
Inconvenient for organizations
Organizations looking to utilize tokenization are subject to strict regulatory requirements. They require a lot of features such as KYC, whitelisting investors, token lock-ups and many more. Cointool.app does not seem to provide compatibility with solutions such as key management software, or custody providers. Bitbond's Token Tool on the other hand, has been developed more specifically to cater to such requirements or be integrated with high-end third party providers specializing in bank-grade IT security.
Taking the above into consideration, this seems to be a risky platform to use if you're a financial institution or organization looking to leverage blockchain tokenization within your entity. With little to no trust provided by the developers of Cointool.app, this would expose entrepreneurs and executives at great risks when it comes to creating tokens and then selling them to investors via token offerings.
Expensive and non transparent service
It seems that cointool.app charges on average 0.5 BNB for any interaction happening with their Dapp (fyi, Token Tool charges as little as 10EUR for creating a token).
When looking through user reviews of Cointool, many of the users seem to be unsatisfied with the expensive and non-transparent service of this Dapp. There also seems to be huge concern towards cointool.app, as many express it being a potential scam: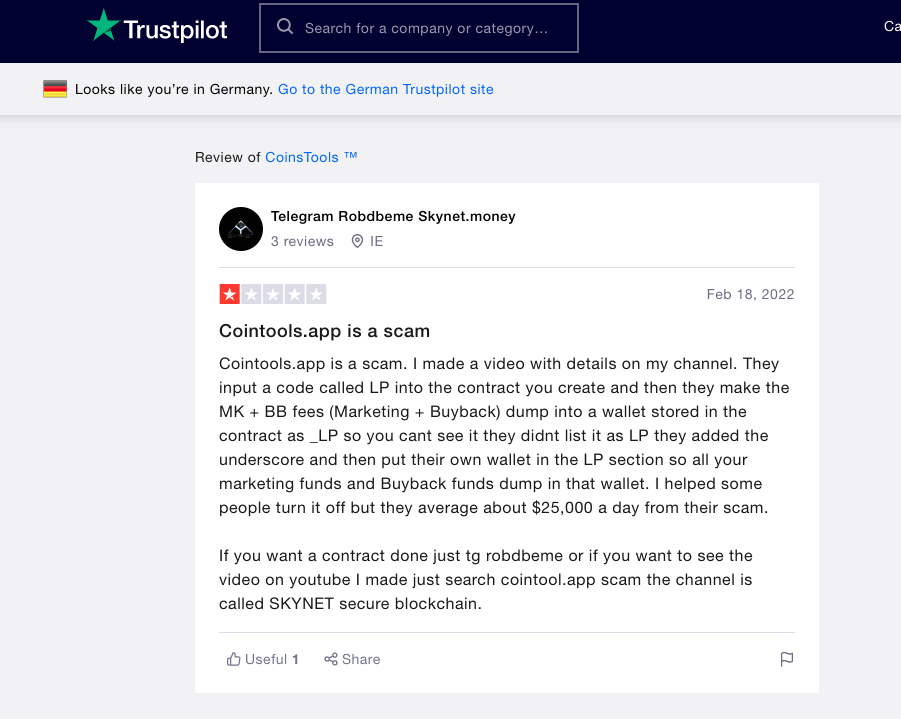 Some of the claims that users made about if Cointool is legit, are that cointool.app has a hidden wallet address within their smart contract code that "steals" some of the fees associated with the tokens created by users.
Here is a video by a developer breaking down the claim about stealing user funds. In his video he shows how a portion of the tokens' marketing and buy back fees are sent to a hidden wallet implemented in the smart contract by the owners of Cointool.
This raises significant doubts about the legitimacy of Cointool.app.
Absence of Customer Support
Many users complain about inexistence of a support team to assist with some of the issues faced by people utilizing Cointool.app services. This can be another indicator to investigate cointool.app's legitimacy.
As a business, your main source of revenue is from your clients, therefore ensuring a smooth customer experience across your product's value chain is indispensable. This is achieved by making the necessary channels for receiving and handling customer feedback available.
Additionally they seem to charge extra for receiving premium support:
Everyone knows that happy customers means happy business, leading to more growth and wider audience utilizing your services. Why would an entity not have customer service channels to assist clients with whatever issues they might encounter? Doesn't it emphasize the concern over the legitimacy of your business?
This is definitely another red flag, and does not help the doubts regarding if cointool.app legit is or not.
Cointool features
Cointool.app has undoubtedly a lot of features. It enables users to perform a variety of functions on the most popular protocols out there without requiring any coding.
Why use Token Tool by Bitbond instead?
Token Tool has high compliance standards
Token Tool is a Web3 powered application, enabling users to easily create smart contracts, with a much better user experience and a special focus for financial institutions looking into utilizing tokenization to bring efficiencies to their processes.
Other than it being accessible by anyone, by leveraging Bitbond's top level expertise, we developed Token Tool in a manner that allows organizations that are subject to strict regulatory requirements, to benefit from the potential of blockchain tokenization while maintaining highest security & safety standards.
It covers several options to configure utility and security tokens in a granular way using parameters such as whitelisting investors and adding an asset documentation reference. This allows issuers to maintain compliance when required, allowing organizations who are subject to regulatory requirements in leveraging the advantages of tokenization.
It is compatible with the most sophisticated custody solutions available on the market such as Metamask / Metamask Institutional, Fireblocks, Qredo and Gnosis Safe.
Token Tool can be integrated with other products for an all-in-one solution
Token Tool is part of Bitbond's Asset Tokenization Suite. It is a set of software components with which you can onboard investors, conduct token offerings and create and manage tokens. The Suite consists of three components:
Offering Manager: API enabling the management of investors and orders
Token Tool: Web3 application enabling the seamless creation, management and distribution of tokens and token offerings.
Investor UI: A white-labeled frontend application which you can use with your own branding. Its primary purpose is investor on-boarding and order submission for a token offering as well as an integrated investor wallet functionality.
Token Tool is developed by a highly knowledgeable dedicated team
Other than providing customer support for users needing guidance or having issues when utilizing their platform, Token Tool is being developed by industry experts that have a proven track record in FinTech and Blockchain. As the platform is primarily being utilized by financial institutions and other prestigious organizations, its robustness is even more important. Hence, the team ensures to always deliver above and beyond results, in order to make tokenization widely accessible, therefore, contributing to further adoption.
Bitbond team is here to assist you on the journey towards the tokenization of everything. As true believers, it is in our best interest to inform you about this technology so you can use it in the safest way possible, therefore, capitalizing on the potential of blockchain technology.
Meet Bitbond team:
Token Tool Features Overview

Supported Blockchains
Select from four leading EVM chains: Ethereum, Polygon, Avalanche, BNB Chain.
Token standards
ERC20 or ERC721 alongside their EVM equivalents.
Wallet management
Securely launch a token using the wallet of your choice support of Web3 Wallets goes from browser wallets such as Metamask and WalletConnect, to enterprise custody solutions such as Fireblocks, Qredo, and/or Gnosis Safe.
Multisend
Distribute tokens to hundreds of recipients in a single transaction with just a few clicks.
Setup and manage token sales to receive investments in crypto or stablecoins. Create STOs, ICOs, or IDOs, in just a few minutes. Check out our guide for more details on how to easily create a token presale.
Token locker
Create token lockers on-chain to build investor trust and manage lock-up periods.
Mint/Burn
Effortlessly mint and burn tokens to manage supply and enforce corporate actions.
DEX liquidity pools
Create and manage liquidity pools for your tokens on decentralized exchanges.
Compliance & Governance
Enforce compliance by managing ownership via whitelisting and blacklisting.
Token Tool enables you with all required features
You can try Token Tool for free on any of the supported testnets.

Summary
Tokenization brings significant advantages to capital markets, we believe in the future, everything will be tokenized, learn more about the benefits of tokenized securities.
Token Tool is your go-to platform to easily create smart contracts. If you're not sure about utilizing tokenization within your organization, make sure to get in touch and make the most out of a free consultation with one of our experts.
Let's get tokenizing!!!