Table of Contents
Although cryptocurrency wallets (aka Web3 Wallets) are becoming more user-friendly, users who are not tech-savvy may still find them bewildering. An IDO crypto launchpad may be the appropriate choice for you if you want to simplify the process of obtaining and holding various types of cryptocurrencies.
We'll provide you with an overview of the most commonly used crypto launchpads for 2022 in this article. Our crypto launchpad rating, which includes a brief analysis of well-known crypto launchpad projects, can assist you in determining the best crypto launchpad platform for you.

What Is a Crypto Launchpad?
A crypto launchpad is a platform that assists businesses and entrepreneurs in launching cryptocurrency or blockchain ventures. The launchpad provides users with the tools, resources, and support they need to succeed.
The following are some of the primary advantages of using a crypto launchpad:
You'll have access to a sizable crypto and blockchain community.
Token sales as a means of raising funds.
Assistance from seasoned professionals.
Promotional and marketing assistance.
Access to a diverse set of resources and tools.
If you want to start your own cryptocurrency or blockchain project, a launchpad can be a useful tool. Alternatively, you can also launch your project with Bitbond's DeFi all-in-one toolbox Token Tool using the Create Token Sale feature. Using Token Tool, you can instantly create an ICO Token Sale Script without any coding. All you need to do is Create a Token on any of the supported EVM networks, and then sell it via creating a token sale. Smart contracts developed on Token Tool have been thoroughly audited by renowned companies such as Certik and cater to the highest security standards.
How Does a Crypto Launchpad Work?
A crypto launchpad is a platform that assists businesses in raising financing and gaining visibility for their ventures. Mentorship, marketing, and technical support are all available through successful launchpad crypto projects.
Binance Labs, Huobi Prime, OKEx Accelerator, and Bitfinex Pulse are the most popular crypto ido launchpads. Several successful projects have used these platforms to generate millions of dollars and build a significant user base.
The initiatives that the crypto launchpad support are usually chosen through an application procedure. The selection criteria vary for every platform, they commonly include things like the team's experience, the feasibility of the project, and the size of the prospective market.
After a project is chosen, the launchpad will offer a variety of services to aid the team's success.
A crypto launchpad's mission is to enable potential startups to thrive, therefore enabling growth in the crypto sector as a whole. Launchpads can play a significant role in the growth of the blockchain ecosystem by assisting potential teams and providing them with the resources they require to flourish.
What is the Difference Between ICO and IDO?
Between ICOs and IDOs, there are a few important distinctions. To begin with, ICOs are far more established than IDOs. This is due to the fact that they have a longer track record and more experience in space. As a result, ICOs are more well-known and have greater credibility than IDOs.
Furthermore, ICOs are more highly regulated than IDOs. Securities laws and other regulations are often needed for ICOs. As a result, KYC/AML regulations for ICOs are frequently more strict than for IDOs.
Finally, ICOs are more likely to raise funds than IDOs. This is due to the fact that they usually have a larger pool of investors and a more established track record.
Creating a token sale such as an ICO, can be technically challenging if you're not familiar with blockchain. Using Token Tool by Bitbond, users can easily create a token presale in just a few clicks. You can then kick-off your project and list it on crypto launchpad to promote your project and start accepting investments.
Learn more about token presales and how to create a token presale.
Top 10 Crypto Launchpads
As mentioned above, Token Tool can be a great alternative to other launchpads available in the market. As your all-in-one tokenization solution for financing your project, with Token Tool users can create smart contracts without any coding required in just a few minutes. Once tokens are created, easily create token sale and embed it on your project's website using an "iFrame" to accept investments from users visiting your website. You maintain full ownership over the tokens and token offering.
Using Bitbond's track record in developing institutional-grade products, with our Web3 tokenization platform any user can leverage our renowned track record to create tokens and then sell them via token offerings.
Additionally, users can benefit from other solutions such as locking your projects' tokens for a certain amount of time using the token locker function, portfolio tracking across networks under one dashboard, multisend tokens, create NFT, and creating chain record, providing a seamless participation in DeFi all from one uniform source.
Some KPIs about Bitbond:
Over €2.6M raised in 1st regulated STO in Germany/Europe
Launch your own token sale below:
Binance is one of the most well-known cryptocurrency exchanges in the world, with its own token launch platform, Binance Launchpad.
Binance Launchpad is a curated token launch platform that assists blockchain startups in raising financing and increasing their visibility. To choose participants who will be eligible to invest in subsequent token sales, the platform employs a lottery approach.
To date, Binance Launchpad has helped launch some of the most successful ICOs, such as Fetch.AI, Celer Network, and BitTorrent Token.
Here are a few KPIs about Binance launchpad:
Total funds raised: $93m
Projects launched: 64
All-time unique participants: 3.56m
Another of the top crypto launchpad projects is OKX. Formerly known as OKEx, OKX Launchpad is the company's own token launch platform.
OKX Launchpad is a token sale platform that connects blockchain projects with a global community of cryptocurrency enthusiasts. OKX Launchpad provides a simple and convenient way for projects to launch their tokens, as well as a secure and dependable platform for investors to purchase tokens.
To date, OKX Launchpad has helped launch successful ICOs such as Harmony, Perlin, and Beam.
Here are a few KPIs about OKX launchpad:
Total funds raised: n.d.
Projects launched: 11
All-time unique participants: n.d.

Huobi is a leading worldwide cryptocurrency exchange with Huobi Prime, a premier crypto launchpad.
Huobi Prime, a crypto trading platform that allows users to purchase and sell chosen digital assets at discounted pricing, was introduced in March 2019 by Huobi Global. Huobi Prime is the latest move in the company's efforts to grow its presence in the cryptocurrency market and provide more services to its customers.
Huobi Prime has helped launch many successful ICOs, including TOP Network, EPIK.
KuCoin is a leading cryptocurrency exchange with its own token launch platform called KuCoin Spotlight.
Kucoin Spotlight is a unique feature on the exchange that allows customers to receive rewards for exchanging specific digital assets. Kucoin is an excellent choice for people searching for a secure and easy-to-use digital asset exchange.
KuCoin Spotlight's ICO launches include Victoria VR, Cryowar, Tokoin.
Here are a few KPIs about KuCoin launchpad:
Total funds raised: n.d.
Projects launched: 29
All-time unique participants: n.d..
Another outstanding crypto launchpad is Gate.io Launchpad.
The Gate.io Launchpad allows blockchain companies to raise funds, get awareness, and build a following by selling tokens. The platform selects participants for token sales based on a first-come, first-served basis.
Some ICOs that have been launched on Gate.io Launchpad are Olive, WeWay, and Zipmex Token.
Here are a few KPIs about Gate.io launchpad:
Total funds raised: n.d.
Projects launched: 40
All-time unique participants: n.d.
Polkastarter is a protocol built on top of the Polkadot network that allows projects to conduct secure and decentralized token sales. To enable cross-chain token exchanges and prevent whales from manipulating the market, the platform makes use of Polkadot's unique capabilities.\
Here are a few KPIs about Polkastarter:
Total funds raised: $49m
Projects launched: 109
All-time unique participants: 35,423
The Ethereum launchpad is a new platform that allows you to create your own cryptocurrency or token. It enables you to establish a new currency or token and sell it to the general public through an Initial Coin Offering (ICO) (ICO). The Ethereum blockchain powers the launchpad, which employs smart contracts to oversee the sale of your money or token.
GameFi.org is an all-in-one discovery hub for games and metaverses. Users can launch their IGOs or participate in already existing ones. They can Stake, Earn, and join guilds. The platform also provides a long list of educational material about the different trends and the metaverse.
Some IGOs (Intial Game Offering) that have been launched on GameFi are Epic War, League of Kingdoms, STEPN, Codyfight, Monsterra.
Here are a few KPIs about GameFi:
Average ATH ROI: 61
Projects launched: 60+
Dao Maker aims to reinvente venture capital. They launch strong holder offering (SHO) which is a fundraising mechanism where eligible investors are chosen based on their on-chain activities and other proprietary data sets
Some SHOs that have been launched on DAO Maker are Chainport, Step.app Hubble,
Here are a few KPIs about DAO Maker:
All-time high ROI: 1x – 209x
Projects launched: 120+
Bonus section for more IDO launchpad crypto providers
Seedify is a blockchain innovation hub with a seed-stage fund powered by the DAO. It is a decentralized incubator and launchpad that is empowering the blockchain ecosystem's forthcoming developments. This is accomplished through the governance-driven community's use of feedback, participation, and funding systems. Any entrepreneur or entrepreneur can submit their work to Seedify for a community vote on their initial funding.
Some projects that have been launched on Seedify are Nomad Exiles, Toyoverse, Battleverse, Last Survivor etc.
12. BullPerks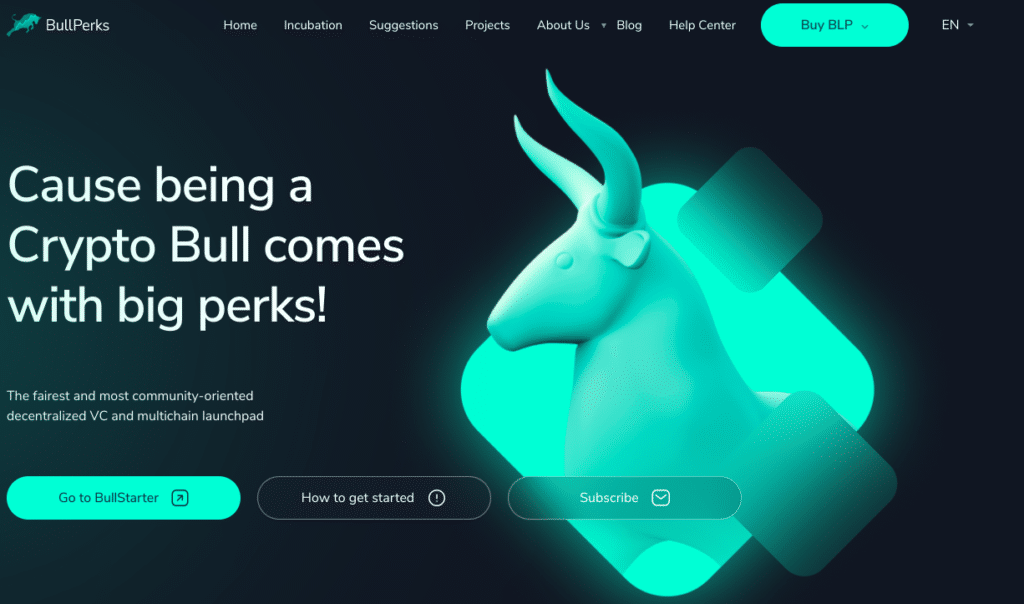 BullPerks, is a fair and community-dedicated decentralized VC and multichain launchpad, established itself as one of the most profitable crypto launchpads in the world. As of February 14th, 2023, BullPerks ranks as the #2 IDO platform by current and ATH average ROI on CryptoRank.io. The company has also secured its strong position among top 3 crypto launchpads all over the globe.
The team completes thorough due diligence on all projects to make sure it only brings the highest-quality deals to the table and minimizes investment risks for its community members. This process considers multiple factors, including regulatory, legal, financial, technological, and business capabilities of the project.
Most decentralized launchpads have a high entry and have become private member clubs. BullPerks stands out from the competition by offering one of the lowest-entry access to early-stage projects in the industry, therefore, democratizing investment opportunities for users.

Conclusion
It is important to keep in mind that this is solely a snapshot of some of the largest crypto launchpads for the time being. When selecting a crypto launchpad, one has to note that those crypto launchpads only support certain chains and thus a limited number of projects. It is crucial to conduct the right due diligence prior to investing.
Finally, all crypto launchpads mentioned above do not offer a token creation tool. Prior to applying with your projects to these crypto launchpads, one must create their token elsewhere and then submit it accordingly.
That's why Token Tool by Bitbond is the perfect tool for you! Using our tokenization platform, users can effortlessly create tokens, manage tokens, and create token sales, in just a few clicks. We currently support 4 EVM chains (ETH, BSC, MATIC, AVAX) as well as their testnets, meaning you can familiarize yourself with all the functionalities of the platform for free. Learn how to create your own token using Token Tool.