Table of Contents
What is a token presale?
Inception of token presales
Token presales, also known as Security Token Offering (STO), Initial Coin Offerings (ICO), or more recently as Initial Dex Offering (IDO), are a new way of crowdfunding using cryptocurrencies and blockchain technology. They are so-called token offerings that distribute funds to investors in forms of tokens. These tokens represent tokenized assets.
During a token presale, a predefined amount of funds is allotted to investors in the form of tokens. If the token presale is successful and the company behind it reaches its target, the tokens become functional units of currency.
The first recorded token presale took place in July 2013, when Mastercoin managed to raise almost $500,000 in just under one month. Shortly afterwards, Ethereum showcased the power of token presales to the world and raised approximately $2.3 million dollars in the first 12 hours.
This caused a short burst of interest, but it wasn't until 2017 when token presales really became popular. ICOs were highly speculative, high risk, and unregulated means of fundraising.
Meaning no guarantees were provided to investors by issuers, nor authorities. Due to many of them turning out to be scams or not backed by real life assets, a crash happened in the whole ecosystem which was recorded in history as the 2017 ICO bubble.

Evolution of token presales
Fundraising using blockchain technology proved to be highly successful due to the efficiencies it brings compared to traditional fundraising methods. Financing became much more accessible at a drastically reduced cost, interest around token presale never ceased, regardless of the bubble burst in 2017.
Consequently, new forms of token presales emerged, the latter would be called Security Token Offerings (STOs). In short, STOs are a regulated version of ICOs with real life assets backing the offering. In 2019, Bitbond issued the first form of tokenized security in Europe with an STO prospectus approved by the German Financial Authorities.
Ever since, we have been specializing in developing bank-grade securities tokenization products enabling financial institutions with the possibility to leverage blockchain & DLT.
Token Tool by Bitbond – your go-to platform to easily create token presales
As we strive to make blockchain and tokenization more accessible, using Token Tool by Bitbond, creating and managing tokens on blockchain is now easier than ever, with no coding skills required.
At Bitbond, we anticipate that all newly issued financial instruments will be tokenized on Distributed Ledger Technology (DLT). We are strong believers in the "tokenization of everything".
Making sure that full ownership over tokens is maintained by users, token creators can simply connect their wallets via a web3 based interface, meaning no prior registration is required.
If you are looking into creating a token presale with our token tool, then this article can serve you as an ultimate guide to creating token presale using Bitbbond's Token Tool.
How to create a token presale?
How to make a token presale? Token Tool enables you to easily create a token presale via an intuitive user interface. You can watch our demo video or follow the steps described below:
Step 1: Select your token for the token presale
To create a token presale, you first need to create your own token via the create token function. This is the guide to help you in creating tokens using Token Tool by Bitbond. Once you have created your token, you will need to start creating your token presale by defining the parameters for your token offering.
In the sidebar menu on the left, click on "Create Token Sale".
As a next step, choose the network on which you wish to create the token presale (Note: the network should be the same as the one the token was created on).
Now enter the token contract address in the token address field and then click continue (you can find the contract address in the block explorer of the designated token).
You will also see a drop down menu with all available tokens in your wallet alongside their contract address. Simply choose the token in question and click continue.
Step 2: Configure your token presale
You will now be redirected to the create token presale parameter configuration page.
Start by selecting payment token you wish to receive investments in and then set the token price denominated in the currency of choice (e.g. ETH or USDT), followed by the token presale amount caps.
(Note: only enter whole numbers. Soft cap must be at least 50% of hard cap. If the soft cap is not reached at the end of the token presale, funds can be claimed back by the investors).
The "Numbers of token on sale" value is calculated by price per token in the currency of choice times the hard cap in the currency of choice.
Example:
If 1 USDC = 100 BTD with a hard cap of 10 USDC → Number of tokens on sale = 1000 BTD
Note: It is also possible to accept any other custom tokens such as stablecoins as means of payment for investments. It doesn't have to be the native cryptocurrency of the network on which the tokens are issued.
This can be helpful in order to accept payments with assets that are not subject to volatile exchange rates, decreasing the risk. However, the custom tokens or stablecoin must be running on the same network as the token sale.
Of course, you don't have to choose a stablecoin, any other custom token works as well, just make sure you choose a token that is accessible to investors. If you do not choose the native cryptocurrency of the selected blockchain but a custom payment token, you will need to specify the payment token via its token contract address of the designated network.
Example:
Contract address for USDT would be:
Contract address for DAI would be: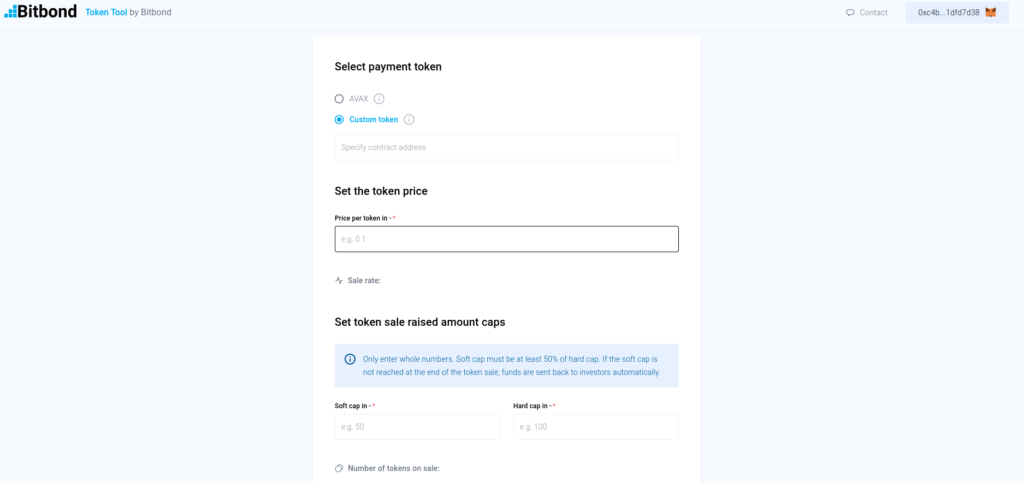 Now set the investment amount limits per investor (Note: these are the minimum and maximum amounts each wallet address can invest. Set to 0 for no limit)
After that, set the token presale start time and the token sale duration. (YYYY-MM-DD HH:MM:SS)
Example:
If token sale start time = 01.01.2022 at 12:00:00 and the token sale duration is 30 days → Token sale end time = 31.01.2022 at 12:00:00
If the offering required funds to be locked for a specific amount of time before being claimed, you should enter the number of lock days under "lock duration in days".
This will lock the funds for the duration entered, preventing investors from claiming funds after the end of the token sale period. If a lock time doesn't apply, set the number of days to "0".
The "Token claim time" date is equal to the token sale end time plus the amount of lock days that has been entered.
Example:
If token lock duration in days = 15 days and token sale end time = 31.01.2022 at 12:00 → Token claim time = 15.02.2022 at 12:00
Set investor whitelisting
Now choose whether you want to whitelist investors or not
A token presale is sometimes limited to specific investors, if this applies then select ¨Only whitelisted addresses can invest" in the "Set Investor whitelist" section. When you select this option, an investor can only invest from an address that you whitelisted previously. This option is suitable for token sales where investor KYC is necessary for example for regulatory reasons such as in a Security Token Offering (STO) or when you want to know who your investors are. The whitelisting of addresses is done under the Manage Token Sale functionality (see below in this guide for details).
If the whitelisting limitation doesn't apply and the offering is available to all investors, set the option to "every address can invest". This option is only suitable for unregulated token sales such as Initial Coin Offerings (ICO).
In the case an investor whitelist has been set, issuers will require a user interface to onboard investors, it will consist of collecting necessary contact information of investors and performing KYC on their profiles. Meaning an onboarding will be needed for every address via some kind of investor UI. However, in the case of no whitelisting, then any address can invest.
Set token sale owner
Lastly, set the token sale owner, this allows you to choose the owner of the token sale, so in other terms the issuer of the offering. To select the owner, enter the owner's address in the "Token sale owner address" field.
Now click on "Continue" at the bottom of the page.
Step 3: Review token pesale
Congratulations, you are now a step closer to completing your token presale. Once you go through all the steps in the "Configure your token sale" section, you will be redirected to the "review token sale" page.
In this section, make sure that all filled information for the token presale is correct and accurate. It is important that you do this process carefully as modifying parameters will require you to edit them and pay for a new transaction for the edit to be implemented.
Once all information submitted is reviewed thoroughly and confirmed, click on "create sale" (Note: make sure your wallet is connected to the right network).
A pop up window will appear with your chosen wallet to confirm the transaction. Click on confirm and agree to T&Cs.
Service fees + network fees will apply accordingly.

Step 4: Create token presale
Now that the transaction is confirmed in your wallet and processed by the network, a modal will appear confirming that your token sale has been created successfully. In it you will find the Token Sale Contract address and the Token sale link which you can share.
Voila! You have now successfully created a Token Sale using Bitbond's Token Tool. Your Token Sale will start according to the period you set.
Note that you must send the tokens to the token sale contract address prior to the start of the token sale. This can be done in the Manage Token Sale section, you must click approve.
You can also go to the "Manage Token Sale" function in order to take actions and edit parameters related to your token sale.
Manage Token Presale with Token Tool
Step 1: Input token sale contract address
To access the management function of your token sale, first you need to insert the contract address received upon creation of token sale.
Once you fill in the address click on "continue". You will be redirected to your token sale information page. At the top you will see information about your token sale according to how you set it up upon creation of the token sale.
The HTML code that you find at the bottom of the token presale information is for you to include as an iframe into your website. This enables investors and prospects to receive information about the token presale you're operating via your existing user interface. See ¨Step 7¨ below for details on setting up iFrame.
Step 2: Review & edit token presale parameters
Under the token presale information, you will find the general settings section:
Here you can review and edit parameters related to your token presale.
Note: token presale parameters can only be edited up until 10 minutes before the start of the sale.
Step 3: Add addresses to whitelist investors
In the case where your token presale can accept investment from whitelisted investors only, you will need to add the addresses of whitelisted investors:
Click on "Add addresses". A pop window will appear where you can manually add addresses of whitelisted investors, or by uploading a file containing a list of the addresses:
Step 4: Review & manage whitelist addresses
Now that your whitelisted addresses have been uploaded, you can review and manage investor addresses:
Make sure that the list is correct and remove unwanted addresses.
Step 5: Set withdrawals parameters if applicable
Should you have withdrawal parameters applied to your token presale, you can toggle on the conditions of your choice and set the parameters accordingly.
Step 6: Congratulations you have successfully set up your token presale
Now that you have completed the necessary steps to create and manage your token presale, you can start receiving investment once the token presale start date is reached.
Step 7: Set up iFrame on your user interface to receive investments
Under the Token Sale information in the ¨Manage Token Sale¨ functionality, you will find an HTML code box for a so-called iFrame:
Use this code to embed it on your website, this will allow you to receive investments directly from your website, without needing to redirect investors to the token sale page.
Below a real time view of an example of a token presale on Fuji Testnet embedded in an iFrame using the HTML code:
Token Tool bares you from unnecessary hassles

Using Bitbond's token tool to create and manage token presales, you can now raise funds while concentrating all your effort and attention on your project.
No more dealing with operational hurdles related to creating, setting up and implementing software within your organization.
Thanks to this easy to use web3 application, issuers can now simply connect with their wallet, launch token presales to collect funds, while maintaining full ownership and control over the token presale and assets.