Table of Contents
Introduction to DeFi Tools
Decentralized Finance, known as DeFi, is a fast-growing sector of the cryptocurrency industry. It's a blockchain-based form of finance that doesn't rely on central financial intermediaries such as brokerages, exchanges, or banks to offer traditional financial instruments. This revolutionary approach to finance has given rise to a multitude of DeFi tools, each designed to facilitate and optimize our interactions with DeFi platforms.
What is DeFi?
DeFi, short for "Decentralized Finance," is a financial system built on blockchain technologies. It's designed to make financial services more accessible and efficient by leveraging blockchain's inherent properties, such as transparency, security, and permissionless access.
Understanding the Basics of DeFi
At its core, DeFi aims to democratize finance by creating an open and non-discriminatory financial system. Through DeFi, users can lend, borrow, trade, insure, and more, all without needing a middleman like a bank or a broker.
In this article, we'll cover the top 20 DeFi tools in 2023, explore their categories and highlight what to look out for when choosing your go-to DeFi tool.
Let's get to it!
Things to Consider While Selecting DeFi Tools
Choosing the right DeFi tools is not a task to be taken lightly. Here are some factors to consider:
Censorship Resistance: DeFi tools should be open to everyone, regardless of location or status. The beauty of decentralization is that it does not discriminate.
Permissionless: The best DeFi tools allow anyone to create financial instruments without requiring permission from a governing body.
Transparency: Blockchain technology is transparent by nature. A good DeFi tool should uphold this principle and provide clear and transparent operations.
Interoperability: With the variety of blockchain platforms available, the ability for DeFi tools to interact and operate across multiple networks is a key factor.
Non-custodial: Maintaining control of your keys and assets is a crucial aspect of DeFi. Non-custodial DeFi tools ensure that you have complete control of your assets.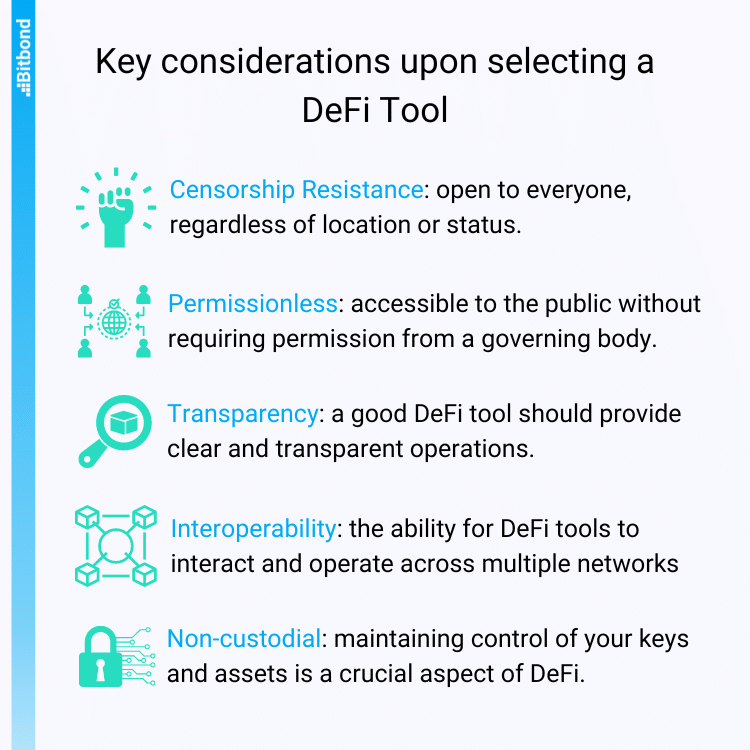 The Top 20 DeFi Tools
In the vast world of DeFi, these are the 20 essential tools you should know about:
Token Tool by Bitbond
Token Tool provides an easy way for businesses to tokenize their assets, and create and manage their tokens & NFTs. With its intuitive platform, it allows users to focus on tokenization use cases instead of coding. The tool is non-custodial, meaning it gives users full ownership over their smart contracts and it works out of the box with browser wallets, hardware wallets and bank-grade key management solutions.
DEXTools
DEXTools is a DeFi hub that provides critical data and functionalities needed for informed trading decisions. It offers real-time data, wallet info explorers, and a pool explorer. DEXTools hosts around 12.5 million visits monthly, a testament to its utility in the DeFi ecosystem.
DefiLlama

DefiLlama aggregates data from various chains, providing key metrics such as Total Value Locked (TVL) and individual project statistics. With approximately 2 million visits a month, DefiLlama is a widely trusted source for DeFi market analytics.
DappRadar
DappRadar is a reliable source for discovering the best and most profitable Dapps across multiple blockchains. It offers rankings, metrics, and analysis, helping you discover the best and most profitable Dapps. Attracting nearly 500,000 visitors monthly, DappRadar is an invaluable tool for comprehensive Dapp analytics.
DefiSaver
DefiSaver offers a one-stop shop for managing, tracking, and automating DeFi positions across different protocols. It's a one-stop-shop for managing, tracking, and automating DeFi positions. With approximately 60,000 visits last month, it's clear DefiSaver's functionality has made it a staple tool for many DeFi investors.
Zerion

Zerion is a smart wallet app for all your crypto wallets. Track your crypto portfolio with a built-in NFT wallet and DeFi tracker. It helps you find the best swaps with DEX DeFi aggregator. With approximately 1.6M visitors last month, Zerion is a solid player in the DeFi ecosystem making it one of the most visited applications by enthusiastic traders.
Dune Analytics
Dune Analytics provides in-depth Ethereum analytics, allowing for easy querying, visualization, and exploration of Ethereum data.
Revert.Finance

Revert.Finance is a yield-tracking tool for DeFi farmers, offering instant analytics and earnings tracking for yield farming across different DeFi protocols. It offers actionable analytics, automation, and management tools for liquidity providers in AMM protocols like uniswap, sushiswap, curve and balancer. With Brazil being the leading country visiting the website, it's evident that such a tool is highly significant for people in developing countries seeking an alternative financial system
LunarCrush

LunarCrush is an analytics platform that provides real-time insights into social media trends for various cryptocurrencies. With around 250K visitors, LunarCrush demonstrates how the need for social media & sentiment analysis are vital for uncovering trading patterns and behaviors in this ecosystem.
CryptoFees
CryptoFees offers a comparison of fees across different cryptocurrencies and protocols, which helps users understand which protocols are users paying for and where the activity is occurring in the DeFi space. With less than 50K visitors last month, Cryptofees still has room to expand and grow its user base in the DeFi ecosystem.
Token Terminal
TokenTerminal provides financial data for various cryptocurrencies and protocols, assisting investors in understanding their financial performance. With around 140K visitors in June 2023, Token Terminal offers users the possibility to aggregate financial data on the leading blockchains and decentralized applications.
De.fi
De.fi is a simple interface for tracking the performance of popular DeFi assets, providing a clear overview of price, volume, and other crucial data. It's a super app that allows users to invest confidently while controlling their digital assets with a full suite of innovative tools. It's currently tracking around $80B in total value locked and more than 120K smart contracts.

DexScreener

DexScreener offers real-time tracking for DEX trades. It offers insights into metrics such as volume, transactions, liquidity and fully diluted valuation. This is excellent for those who want to keep an eye on the trading activity of specific tokens.

APY.Vision
APY.Vision is an all-in-one LP (Liquidity Provider) dashboard that allows users to track their liquidity pool investments on DeFi. It allows users to track their liquidity pool gains and impermanent loss to get the needed data to know when to enter and exit liquidity pools or yield farms and maximize returns.

BubbleMaps

BubbleMaps provides a visual representation of price action in the DeFi sector, helping investors identify trends and movements in the market. It's the first supply auditing tool for DeFi tokens and NFTs. Their unique and colorful bubbles make on-chain data easy to understand. Bubble Maps offers features to investigate wallets, reveal connections, and see through the noise of blockchain data.
Exponential.fi
Exponential.fi is a tool for yield farming strategies, helping users identify the most profitable yield farming opportunities across multiple DeFi platforms. With a mission focused to make DeFi more accessible to everyone, it allows users to easily discover, assess and invest in liquidity pools across chains.
Nanoly

Nanoly is a decentralized data analysis platform that provides comprehensive data and analytics for DEXs. Nanoly monitors more than 10,000 vaults on 26 chains to find today's best vaults in DeFi.
RugDoc
RugDoc provides DeFi project reviews to help users avoid risky platforms. Each DeFi project is given a 'rug score' for risk assessment.
Metamask
Metamask is an Ethereum wallet that serves as a gateway to many DeFi apps, making it a crucial tool for any DeFi enthusiast. Available as a browser extension and mobile app, Metamask allows users to buy, store, send and swap tokens seamlessly.
Safe Global
Safe Global is a trusted decentralized custody protocol and collective asset management platform on Ethereum and the EVM. It offers a multi-chain wallet with a focus on user privacy and control, supporting a variety of assets and blockchain networks. Previously called Gnosis Safe, Safe spun out with a mission to build a better standard for ownership with smart contract accounts. Since 2018, Safe has grown to support several EVM chains with more than 3M accounts deployed and $58B in assets stored.
DeFi Tools by Category
To navigate the wide array of DeFi tools available, it's useful to group them into categories. This makes it easier to understand their various functions and how they can aid your DeFi journey.
Trading and Analytics Platforms
These tools provide key data and analysis required for trading and making informed decisions. Examples include DEXTools, DefiLlama, and DappRadar.
Portfolio Trackers and Management Tools
These tools allow you to track, manage, and optimize your DeFi assets and investments. They include DefiSaver, Zerion, and Revert.Finance, and De.fi.
Analytics and Data Platforms
These platforms provide comprehensive data and analytics about various DeFi projects and tokens. Tools like Dune Analytics, LunarCrush, CryptoFees, and TokenTerminal fall under this category.
Yield Farming Tools
These tools help users to identify and capitalize on the most profitable yield farming opportunities. They include Exponential.fi, APY.Vision, and BubbleMaps.
Security and Risk Assessment Tools
These platforms provide security reviews and risk assessments to help users avoid risky DeFi projects. An example of this is RugDoc.
Wallets and Asset Management Tools
These are crucial tools that facilitate the safe storage and management of crypto assets. They include Metamask and Safe Global.
Asset Tokenization Platforms
These platforms allow businesses and individuals to tokenize their assets, creating new opportunities for trading and investment. Token Tool by Bitbond is a notable tool in this category. As the DeFi sector continues to grow and evolve, these categories will likely expand to include even more innovative and diverse tools. It's always important to do thorough research and due diligence when deciding which DeFi tools to use.
Conclusion
The world of DeFi is ever-growing, with new projects and tools appearing frequently. It's an exciting and innovative field with the potential to disrupt traditional finance and offer users more control over their financial future. While the DeFi tools mentioned here provide an excellent starting point, they only represent a fraction of what's out there. Therefore, keep exploring, stay informed, and most importantly, understand the risks before diving in.