Table of Contents
Asset tokenization has emerged as a focal point of innovation in the financial services landscape. Financial institutions' recognition towards the benefits of tokenizing assets is witnessing significant growth. Consequently, there is a growing need for tailored solutions that align with institutional requirements. Bitbond is partnering with Ledger to fulfill these specific needs, enabling organizations to facilitate secure & scalable access to institutional-grade asset tokenization products.
The Significance of Institutional Asset Tokenization
Understanding the Growing Importance of Asset Tokenization for Institutional Players
Asset tokenization describes the representation of ownership of real-world assets or financial products into digital tokens that run on blockchains. This innovation is gaining traction for various reasons.
Firstly, it enhances transparency and reduces operational costs by automating many aspects of primary markets as well as asset lifecycle events.
Secondly, it unlocks greater liquidity for traditionally illiquid assets through fractional ownership. This provides institutions with greater means to diversify their portfolios, as well as reducing the barrier to entry for investors, enabling access to a broader set of investors. Which offers increased accessibility and efficiency of trading assets on the secondary market globally.
Lastly, there it significantly reduces risk related to Deliver vs Payment (DvP) by providing notable efficiency gains in payment settlement. Global instant settlement is achieved thanks to the peer-to-peer nature of blockchain allowing parties to trade tokenized assets across networks without relying on a centralized intermediary to facilitate the transaction. This concept is also known as atomic swaps.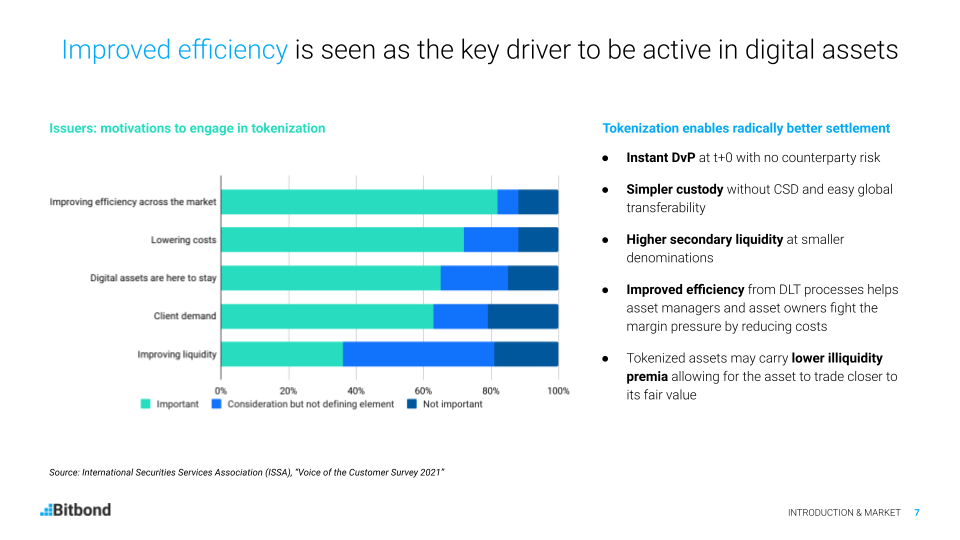 While the advantages of asset tokenization are clear, institutions face hurdles when it comes to adopting such innovative technologies. Blockchain-based solutions have proven to be too complex and difficult to implement. Let's not forget the lack of critical security features, as well as their lack of scalability. This led to cumbersome, costly, and lengthy processes upon integrating within existing systems.
The good news is that Bitbond's partnership with Ledger and its Ledger Enterprise platform brings an end to these challenges. Enabling players with seamless access to the world of Web3, DeFi, and blockchain technology.
Bitbond joins forces with Ledger to address institutional needs
This is a landmark collaboration as Bitbond joins forces with a highly respected name in the blockchain and digital asset custody landscape: Ledger. Together, we have introduced a groundbreaking solution revolutionizing the way institutions issue and manage digital assets.
At the core of this partnership lies the integration of Bitbond Token Tool into the Ledger Enterprise Platform. This integration offers users with a centralized hub for issuing and managing a diverse range of blockchain-based assets and functionalities.
Introducing Bitbond Token Tool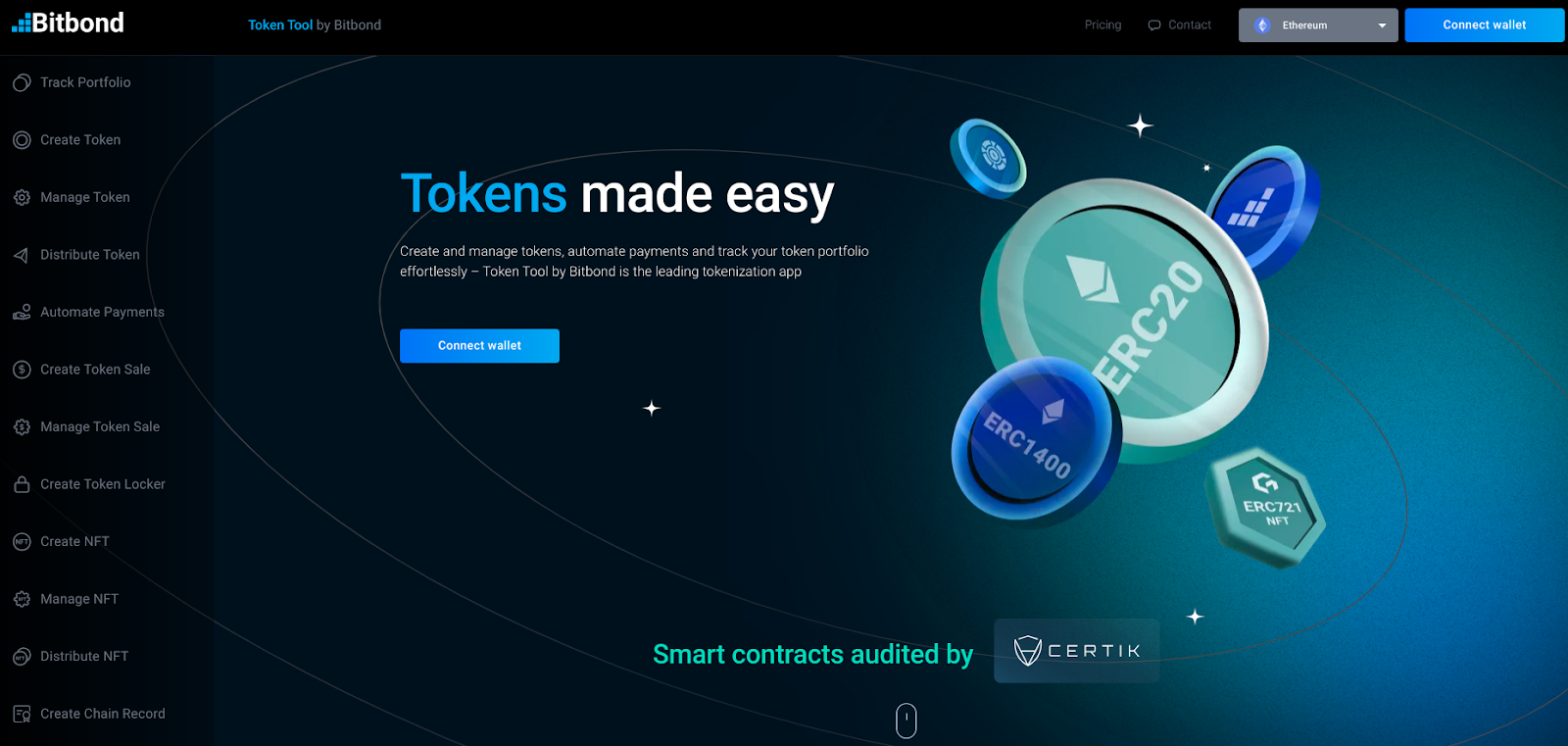 Token Tool serves as a Web3 smart contract generator that was released by BItbond in early 2022. It is specifically designed to streamline the process of creating and deploying smart contracts by enabling users to configure on-chain features effortlessly. Using its intuitive interface, anyone can benefit from Token Tool's audited smart contract templates to configure their tokens accordingly.
As we prioritize ease-of-use and user-friendliness, the aim is to make asset tokenization accessible to anyone, anywhere, regardless of their technical knowledge. Thereby we ensure that even non-technical users can effectively leverage asset tokenization and blockchain technology.
Token Tool smart contracts cover a wide set of use cases such as ERC20 and ERC1400 tokens, NFTs and NFT drops, token sales, token lockers, payment streams, and more. Token Tool supports Ethereum and 8+ leading EVM-chains. Token Tool is now officially integrated into the Ledger web application, allowing Ledger customers to create and deploy smart contracts from a well-established source.
Understanding the Ledger Enterprise platform
What is Ledger Enterprise?
Ledger has established itself as a leader in blockchain security and infrastructure. The company is renowned for its commitment to providing both consumers and institutions with robust solutions for secure digital asset management and custody. Ledger Enterprise is the enterprise product line of well renowned IT security firm Ledger, most known for their hardware wallets adopted by millions of retail users. Ledger's track record consists of:
6M devices sold to consumers across 200 countries
Onboarded 100+ financial institutions and brands as clients
20% of the world's crypto assets secured using their technology
What is the Ledger Enterprise Platform?
Ledger Enterprise Platform is a secure SaaS digital asset management solution, allowing businesses to self-custody and manage their digital assets operations at scale. It provides Custody, Staking, Tokenization, DeFi, Trading and NFT / Web3 integrations, with advanced automation, governance and reporting capabilities.
Token Tool's Integration within the Ledger Enterprise Platform
The cornerstone of this partnership is the seamless integration of Bitbond Token Tool into Ledger Enterprise Platform, offering an all-in-one solution for institutions seeking to streamline their asset tokenization processes.
This integration enables institutions to tokenize their assets with ease while enjoying the security and convenience of the Ledger Enterprise environment. As a result, asset tokenization becomes a straightforward and hassle-free process for institutional users.
Simplified User Experience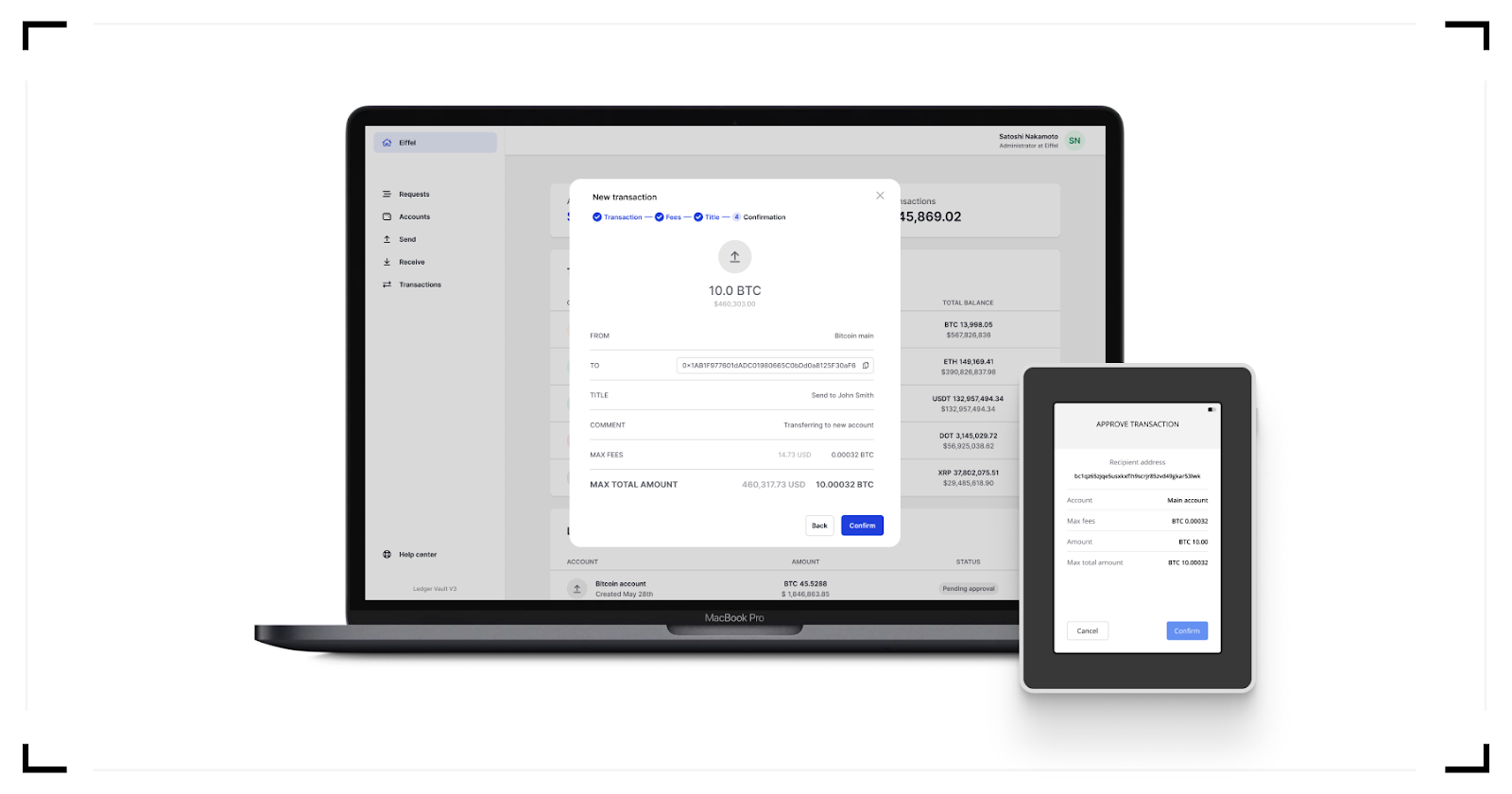 The integration brings forth a simplified user experience, characterized by two key features:
Clear sign feature: What you see is what you sign
Usually, when approving a transaction in your wallet, most providers do not display the specific configuration of the smart contract that is being deployed. The trusted display of Ledger's solution allows all approvers to see exactly what they are signing, providing the transparency required in bank-grade governance and security. Rather than showing incomprehensible bytecode, information is displayed in an easy to read and to understand manner.
API Access: Create and manage token contracts at scale
Token Tool is fully available via the Ledger Enterprise API. Enterprise customers can automate their token creation and lifecycle management processes through the API integration, enabling them to easily issue tokenized assets in high volumes at scale.
Auto-Connect: Seamless Integration with Ledger Enterprise Platform
Upon accessing Ledger Enterprise Platform, institutional users can connect to the integrated Token Tool dApp, eliminating the need for manual wallet connections. This seamless experience enables users to initiate their blockchain activities without additional steps.
Auto Switch Network/Address: Effortless Transitioning Between Accounts
Institutions often change accounts within Ledger Enterprise Platform. The integrated Token Tool dApp streamlines this process by automatically adjusting to changes in accounts and networks. This ensures that users can manage their assets smoothly within the blockchain ecosystem.
Conclusion
As the institutional world continues to embrace digital assets, the need for solutions tailored to their specific needs becomes increasingly critical. Bitbond and Ledger's partnership is a pivotal step toward addressing these needs. By providing institutions with a streamlined, user-friendly, and secure means of managing asset tokenization, this collaboration is poised to reshape the future of institutional digital asset management.
Check out Token Tool and try it for free on supported testnets.