Table of Contents
Earlier this year, Vonovia, a DAX 30 company, issued its first fully digitally registered bond. The bond issuance was completed fully digitally and is solely represented by security tokens issued on the Stellar blockchain. The transaction took place in partnership with Firstwire, M.M. Warburg and Bitbond.
This came a short time after the German Federal Cabinet announced a draft law on the introduction of electronic securities, which is intended to drive forward the digitization of Germany as a financial center. "Digitization offers us the opportunity to finance ourselves more quickly, easily and cheaply," says Helene von Roeder, Chief Financial Officer of Vonovia. What implications does Vonovia's blockchain-based digital asset issuance have in furthering the institutional adoption of blockchain tokenization in Europe?
Background information
Volume: €20M
Maturity: 3 years
Instrument: Namensschuldverschreibung (NSV)
Type of claim: Security Tokens
Offering: Private Placement
Investor: M.M. Warburg
Blockchain: Stellar Blockchain
Vonovia SE is a German real estate group based in Bochum managing around 400 000 homes. It is the first housing company to be included in the DAX 30 and has its shares traded on the Frankfurt Stock Exchange. It is undisputedly the first in the german market with a real estate portfolio worth around EUR 56B.
Firstwire is the first web-based primary and secondary marketplace for debt financing. The Cologne-based FinTech company offers the international private placement market an independent 24/7 online platform catering to institutional investors.
M. M. Warburg & Co. is a German independent private bank based in Hamburg. In 2019, the group reported assets under management valued at over 62B EUR. It is a family-owned bank founded in 1798, and its current core businesses are private banking, asset management, and investment banking serving private, corporate and institutional clients. Warburg was the main investor in relation to the Vonovia transaction.
Vonovia issues fully digital debt security for the first time via online marketplace firstwire
The transaction took place via the firstwire platform which it previously used to place a promissory note of EUR 50 million in September 2019. As part of its wider strategy in digitizing its finance division, Vonovia issued a blockchain-based €20M digital bond with a 3-year term. The security tokens, dubbed VNA1, were used for the transfer of ownership of the bond to investors. Bitbond provided the transaction participants with the necessary expertise and tech stack surrounding blockchain tokenization and digital asset custody.
This was a huge milestone for the adoption of blockchain-based digital assets and fulfills a key requirement of the German government's blockchain strategy for greater transparency, market integrity and investor protection. With more legal certainty towards blockchain tokenization, big institutions such as M.M. Warburg and Vonovia can already start implementing DLT products within their systems and test out their viability. The VNA1 was a great practical demonstration of how the institutional issuance of bonds and other financial instruments can take place in the future.
Why issue blockchain-based digital assets?
By leveraging Firstwire's fully digital marketplace and Bitbond's seamlessly integrable tokenization and digital asset custody solutions (aka crypto wallets), the parties involved in the transaction benefit from the substantial efficiencies offered by the underlying technology on which the products operate. As the issuance channels become fully digitized, manual back office tasks will become fully automated, therefore reducing costs and time associated with it. Consequently, utilizing blockchain technology benefits issuers such as Vonovia by providing :
Lower transaction costs and significant cuts in time spent due to fewer intermediaries
Instant settlement of assets reducing counterparty risk by offering transaction certainty as faster time to market and real-time buy of assets is enabled
Highly secure and more cost-effective custody of assets
Increased transparency additionally provides real time data on asset performance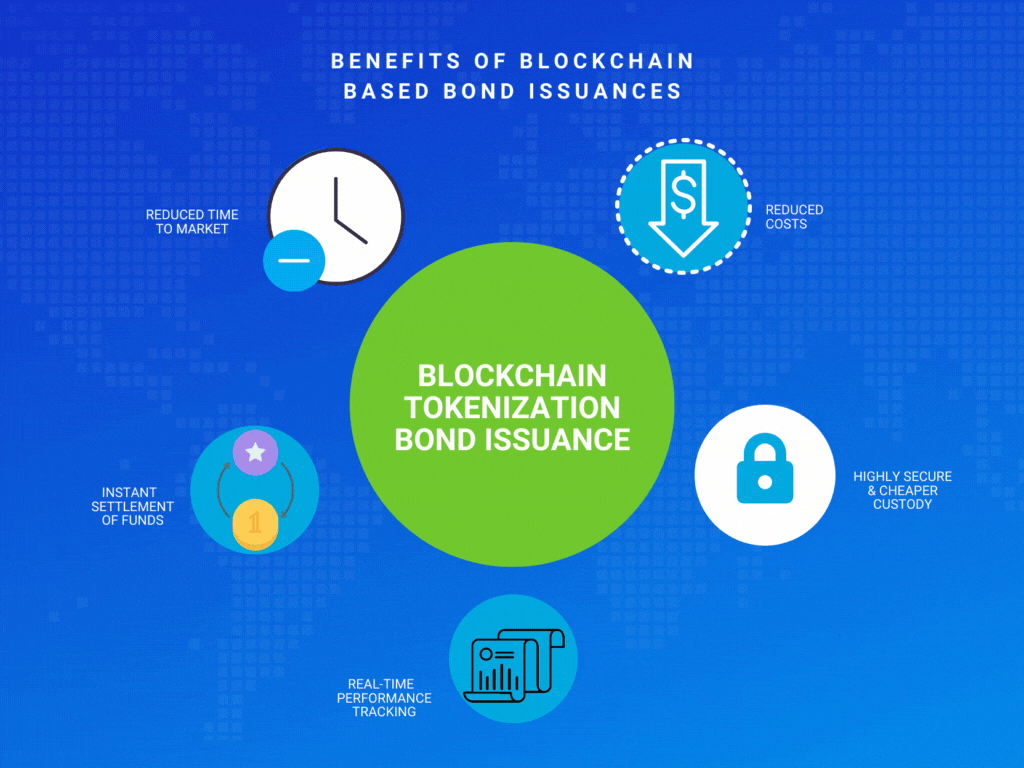 Additionally, issuers are enabled to expand and structurally change the range of financial products and services offered:
Data-driven search for suitable investors
Online subscription and asset allocation through security tokens
Seamless integration of custodian services to ensure smooth transaction settlement
Automated notifications, i.e. coupon payments and repayment of bond
Access to bond information at all times
Tokenization is the way forward
We're at the start of wider institutional adoption for blockchain-based digital assets. Governments are paving the way for easier integration of blockchain products within financial institution infrastructures creating a legal base ensuring safety to all types of investors looking into investing in crypto assets. Consequently, big corporate issuers like this DAX30 company are already commencing pilot transactions on blockchain helping them identify the ideal product to fit their needs.
At Bitbond, we are dedicated to making blockchain technology more accessible to financial institutions with our seamlessly integrated, bank-grade, compliant tech solutions. You can learn more about the topic in our resources or simply contact us if you wish to consider implementing blockchain-based products within your organization.